Irrigation
Irrigation
New Installations
Wet Scape Irrigation offers Free estimates on residential sprinkler systems. Our installations are backed with a six-year labor and parts warranty. We will design and install a complete or partial lawn/landscape irrigation system on your property. Our installation teams will carefully and professionally install the system in a timely fashion, providing minimum disruption to your landscaping.
Winterization
We will winterize your irrigation system by completely blowing out all water from all components, preventing damage due to freezing. Our rates for winterizing residential systems are:
1 - 4 zones: $105.00
5 - 8 zones: $120.00
9 or more zones: $14 per zone.
Commercial systems are $16.00 per zone, $185 minimum
Every system winterized by Wet Scape Irrigation comes with a limited warranty that covers any damage to the system that may be caused by an improper winterization.
Sprinkler Startup
Our sprinkler start up includes pressurizing your sprinkler system, closing all drains, checking for leaks, programming the controller and adjusting heads.
Sprinkler Repair
Our repair service technicians stock their trucks with a wide variety of parts to enable them to handle repairs on any sprinkler brand. Troubleshooting difficult systems is our specialty.
Commercial Services
Wet Scape Irrigation also services your commercial sprinkler needs including apartment complexes, homeowner associations and office buildings. Our commercial expertise also includes athletic fields, parks, playgrounds and libraries.
Service Calls
Our service call is $150.00 first hour, $85 per hour per additional man. Of course, any parts needed would be additional. Most services calls are completed in or close to an hour. Travel time counts and $12 fuel charge.
Equipment and Operator
We are set up to trench, vibatory plow and bore under side walks and drive ways. If any of those services are needed the cost is $325 per hour for one operator and our machine. Travel time to and from your site counts. This service is available 7 days per week.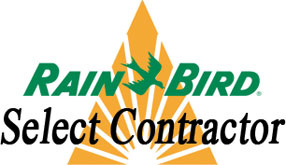 Wet Scape Irrigation has obtained Rainbirds 100% Select Contractor status
We exclusively purchase and install Rain Bird products and follow their Select Contractor Code of Professional Responsibility
In order to achieve and safeguard the highest standards of professionalism, every Select Contractor agrees to adhere to the following requirements:
Treat each customer with respect.
Conduct all business dealings in an ethical and legal manner.
Meet state and local licensing and insurance requirements.
Respond to job leads and service calls within 24-48 hours.
Be on time for sales calls and site inspections.
Provide each customer with a comprehensive proposal that includes the work to be done and the time required to complete the project.
Design premium quality systems and install professional grade products in accordance with industry standards and applicable codes.
Explain completed work to the customer.
Leave job sites in the best condition possible.
Ensure that crew members and company vehicles present a consistent and professional image.